Free Carpet Shopping Forms
with Guides, Charts and Checklists!
(click on image to view or print)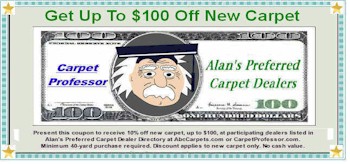 Notice: It is up to each carpet dealer to decide if they wish to honor this coupon. Please call the dealer in advance to make sure they will honor my coupon. They may already offer another comparable special or may provide you with another type of discount in lieu of this coupon. This coupon has no cash value and there is no guarantee it will be honored at the carpet dealer you choose to buy from. Minimum 40 yard purchase required. disclaimer (Please present my coupon upon arriving at the store... Please don't spring it on them at the last minute!)
(click on image to view or print)
Using My Room Yardage Table
To make calculating your yardage easier I have created a room yardage table. Find the corresponding room width and length (in feet), and follow the proper column and rows till you line up your room measurements and discover the square yardage.
Always round-up your room measurements to the nearest foot. Rooms must be considered at least 12 feet wide or you will not have enough material to complete the installation.
This chart is only for approximation so you can get a basic idea of how much carpet you are going to need.
Measure Your Room: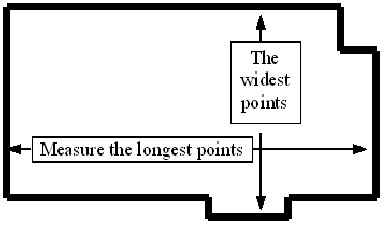 (Be sure to measure the absolute widest length and width,
all the way into closets and through doorways.)
3. My Room Yardage Table
(click on image to view or print)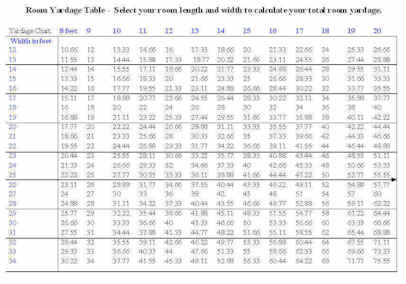 How to Measure Your Stairs

?
Measuring for stairs can be a little bit tricky, but as long as your staircases are not unusual they shouldn't be too tough to estimate. To make it easy I have created a handy chart to help you figure a basic estimate of how much carpet you need to carpet your stairs.
A. What is your stair step and riser measurement?
Most step and risers will measure about 18 inches total. In diagram #1 below, it shows you where and how to measure the step and riser. You need to calculate these measurements in inches.
B. Measure the width. How wide are your stairs?
There are several types of stairs. Most stairs are about 3 feet wide. Some are much wider. Not all stairs are the same. Some stairs are open on one or both sides and you will need to measure the widest points. Diagram #2 below shows how to properly measure the width of boxed stairs. The yardage chart is for estimating only.
Most staircases have about 12-14 steps. Some are split into two 6 or 7-step flights with a landing at the midpoint.
4. My Stair Yardage Chart
Figure the number of yards of carpet you typically need for a standard 12-14 step staircase.
(click on image to view or print)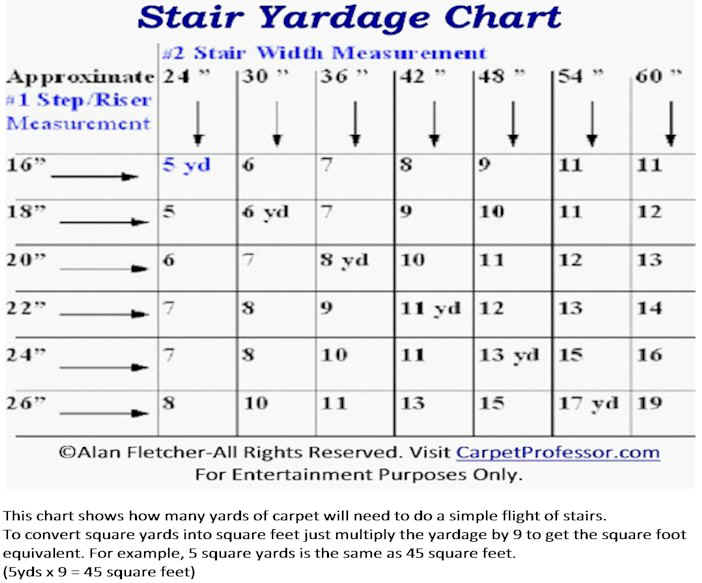 If you have more or less steps than 14, you will have to take that into consideration, and it will not include any carpet you may need for landing areas unless you include them in your stair measurements.