How To Choose New Flooring Like A Pro!
Carpet | Pad | Installation | LVP | Forms | Best Dealers
---
Best Carpet & Pad
for Stairs?
Carpet installed on Stairs and Hallways usually get the most wear and tear. It's because stairs are inherently narrow and foot traffic is concentrated right down the middle and along the front edge. Using a higher grade of carpet and padding on your stairs can increase carpet durability and longevity significantly. Some homeowners choose to install a commercial grade carpet for better results.
What is Your Level of Foot-Traffic?
Okay, it's no surprise that carpet on stairs takes a beating and tends to wear out fastest. You can fix that by installing a more durable carpet and padding. But what about the rest of your home? I have created a simple test to help you determine what grade of carpet you need to choose for your home based on your level of foot traffic. Take my free Carpet Foot-Traffic Test.
Carpet On Stairs: Children and Pets
Especially teenagers and their friends can be one reason why carpets installed on stairs tend to wear out faster than other carpets installed in your home. Kids and pets love to run up and down the stairs as fast as they can which is a very common scenario for most families, including mine.
What can you do to alleviate the problem? You can choose to install a more durable grade of carpet and a higher density pad. Here are some smart options that may help you deal with this common problem without breaking the bank!
Best Carpet Fiber for Stairs?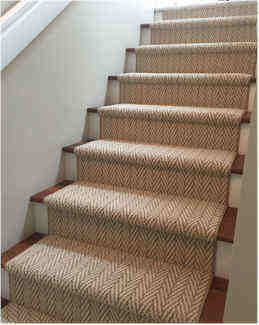 For stairs, you can choose any carpet style you like, but the most durable residential carpets are made from 100% Nylon. There are various types of Nylon fibers available and some are more durable than others.
The "Soft" Nylon styles are more expensive and not quite as durable as a standard Nylon carpet style. For this reason I would steer clear of the soft Nylon carpet styles if you have heavy foot traffic in your home and want the most durable carpet fiber.
Learn more How to select the right carpet fiber.
The Worst Carpet Fibers for Stairs
Polyester
Residential carpet made from Polyester or P.E.T. Polyester, Triexta (aka) Sorona or PTT or Smartstrand are less durable than nylon and are prone to matting and crushing of the pile. These are not a good choice for stairs.
Olefin (aka) Polypropylene
Many inexpensive looped Berber styles are made from Olefin and would not be a good choice for stairs. However, Commercial grade carpet made from Olefin, aka Polypropylene, is what they typically use in banks, movie theaters, office buildings and airports. When configured properly, Olefin can tolerate heavy foot traffic.
In commercial applications they glue the carpet down without using a pad. This is the major factor in making this type of carpet so durable. If you do use a pad, it needs to be low-profile and high density. A 1/4" Felt pad is a common choice. Choosing a commercial grade carpet with a low pile height will be very durable on stairs. Keep the pile height less than 3/8" for best results. There are hundreds of styles and patterns of commercial carpet to choose from. Learn more Carpet Specifications - Face Weight, Pile Density, Tuft Twist
Best Padding for Stairs
Choosing the best carpet for your stairs may be best served by first choosing the right carpet padding for your stairs. You see, it's the padding that takes most of the beating from foot traffic and good quality padding can help your carpet tolerate more abuse for a longer period of time.
The right carpet padding will be of a higher density rating, but not thicker. Most residential homes use a 6 to 8-pound padding density in all areas and are no thicker than 7/16". However, on stairs you should to go with an 8 to 10-pound density rating and a thickness of 3/8" or less.
To make carpet on stairs even more durable, use a higher density padding. This can increase the lifespan of the carpet installed on stairs. Perhaps use a 10 pound density Rebond with a 1/4" - 3/8" thickness?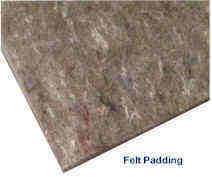 In the main areas, most residential homes use padding with a thickness of 1/2" or 7/16". This is standard in the industry because most people like a carpet that is somewhat soft or spongy underfoot.
On stairs, if you use padding with a thickness of 3/8" or less, your stairs will not feel quite as spongy underfoot but the carpet will be able to tolerate more abuse than if you go with a thicker padding and/or choose a density rating of 6-pounds or less.
So to make it clear, using a padding with a density rating of 8 to 10 pounds and a thickness of 3/8" or less will give you the best results on stairs. This added support allows carpet installed on stairs to last as long as possible and tolerate a higher level of foot traffic.
To get the absolute most durable scenario, I would probably select a cut-pile style, commercial-grade carpet made of Polypropylene or Nylon. Commercial grade carpets always require a padding with reduced thickness and a higher density-rating. Check with your dealer for carpet manufacturer for warranty requirements.
Padding Types for Stairs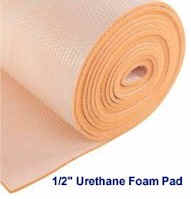 There are many types of pad to choose from, but the best bang for your buck is a standard 3/8", 8-pound density Rebond pad.
Flat slab or Waffle Style Rubber pads are much more costly and while they do a good job, they are not as good a value as a standard urethane foam Rebond style pad.
Wool, Felt, Cloth or Synthetic Fiber Pads
These pads all breathe well, dry quickly, resist mold and mildew and are best used in basements or on concrete slabs where there may be some moisture concerns or for use under commercial-grade carpets.
Best Grade of Carpet for Stairs?
This is where it gets difficult to advise you because there are so many variables to consider. If money were no object then all you would have to do is buy the best grade of carpet available and not have to worry about how long it lasts. When it wears out just replace it.
But in the real world, we all have a limited budget to consider and we all want to get the most value for our hard-earned dollars. So you need to consider the following questions carefully before you can effectively determine what grade of carpet you might need to buy.
How long do you want your new carpet to last? 5, 10, 15, 20 years?

What is your level of foot-traffic in your home? Low, medium, moderate or heavy?

How much carpet do you need to purchase?

How much money do you have to spend on this project?
Learn more: What Carpet Style or Grade Should I Select?
Carpet Longevity?
How long do you want your new carpet to last? If your answer is 5 years or less than you don't have to spend so much to get the job done. If you are planning to move soon or if you have small children and active pets, it would be wise to plan on replacing your carpet in about 5 years. This means spending less now and replacing your carpet more often as your children grow.
You can buy lower grades of carpet and have it installed with basic pad for less than $20 per square yard. If you are not picky about style and colors you could do it for about $15 if you buy from a local retailer who has rolls of carpet available in-stock and ready-to-go! These are often second-quality goods and can be a great deal if you choose wisely. Want to save more? How to choose Carpet Remnants.
Most homeowners want carpet to last 10 years
Spend more and your carpet will last longer. As long are you match your level of foot traffic with the number of years you want your carpet to last. If you want a certain style and color to match your décor then you might need to order your carpet from a carpet sample at a retail store.
They will place your order directly with the manufacturer for the size, style, grade and color you choose. These carpets are first-quality goods, come with a full manufacturer's warranty. You will have to pay at least 50% down for it in advance, including shipping costs. Carpet and Padding Cost.
Carpet Shipping Delays and Increasing Cost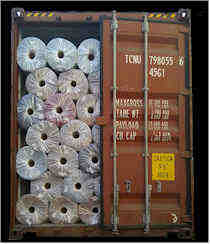 Rolls of Carpet ordered direct from mills located in Georgia take two to four weeks to arrive if you are in the west. That is assuming the carpet has already been manufactured.
In the winter when roads are temporarily closed or impassible due to ice and snow it can take much longer for your carpet to arrive as truckers can only do so much when bad weather happens.
Lately there have been problems with the supply chain and many carpet orders have been delayed by months. Shipping costs have increased significantly and will likely continue to rise through 2023.
Revise Your Carpet and Installation Budget
If you want more than 15 years of wear and tear from your new carpet you are going to have to pay more for a higher quality carpet. Prices for good quality carpet starts at about $50 per square yard ($5.50 per square foot) and goes up from there. The padding you select must match the quality of the carpet and be appropriate for the application. You also need to make sure the installers you hire are experienced with the grade and style of carpet you have selected.
Most installers now charge more per square foot/yard for handling thick, heavy or high-end carpeting with a pattern match. These materials require extra time, effort and muscle to transport, handle, seam and trim. Expect added charges for wool carpeting and looped Berber styles too.
The increased installation cost varies depending on the amount of extra time and effort required to complete the job. Get installation quotes before you make your final selection to make sure you know what the final installation costs will be.
Learn more How To Find a Qualified Carpet Installer
Q. Should I Choose a Commercial Grade Carpet for my Stairs?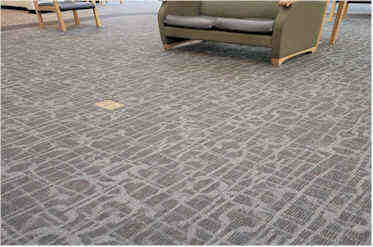 Most folks prefer to use the same grade, color and style of carpet throughout their entire home. However, there is no reason why you have to! You can install a higher grade of carpet on your stairs to make them last years longer. There are many colors, styles and quality levels to choose from with commercial-grade carpets.
Choosing a commercial grade carpet could be a wise choice for your stairs, especially if you have heavy foot traffic. Commercial grade carpets have a shorter pile-height and the tufts are much more densely packed than residential grade carpet styles. The result is a carpet that can take a real beating and hold up extremely well.
Commercial carpet is what they typically use in banks, movie theaters, office buildings and airports. It is because it will tolerate heavy foot traffic, resist stains and clean easily. It can be installed with or without a pad. The thickness and density of the pad required will depend on the type and style of the commercial carpet you select. Usually 1/4" thickness and a density of at least 128 ounces (8-pound).
Commercial Grade Styles
When choosing a commercial carpet you can consider carpets made with Polypropylene, Olefin, PET Polyester or Nylon and still enjoy excellent results for your high-traffic stairs. With commercial carpet, the carpet pile is manufactured more dense and has a lower pile-height which allows these carpets to be extremely durable even in heavy foot-traffic applications.
I don't generally recommend choosing Looped Berber or any Level-Loop styles for your stairs because of the high chance for snags. Cut-Pile or Plush styles would be a smarter choice for residential stairs.
Residential-grade carpet and pads are designed to be softer underfoot and be more suited to those homeowners who desire a carpet that is soft and plush. However, the softer a carpet is, the less durable the carpet will be. This is because the strand is extruded thinner to increase softness. Homeowners who choose a softer style of carpet often find it does not last as long as anticipated or tolerate heavy foot-traffic.
Learn more: