After 30+ years in the business, I'm sharing my knowledge and experience with homeowners who want to choose wisely, avoid scams and get qualified installs from a reputable dealer.
"How To Choose New Flooring Like A Pro"
Carpet | Pad | Installation | LVP | Forms | Best Dealers
---
Carpet Installation Near Me?
In most cases, when you buy new carpet from a reputable carpet dealer they have qualified carpet installation available and will make all the arrangements for your new carpet to be installed. Installation will be included in the total price along with the cost of your carpet and padding.
However, if you buy carpet from a dealer that only provides the materials (cash and carry) then you will need to find a carpet installer yourself, pay them directly and make all the necessary arrangements too.
Some cash and carry dealers have a list of local carpet installers they can provide and you can call several and ask for a free estimate and then hire whoever you think is most qualified to do the job. This sounds easy but it can be very time consuming. Most carpet installers are busy all day long and don't have a lot of free time to come to your home to measure and give you a free quote. Most of your queries will be done over the phone.
In some states, carpet and flooring installers must have a state issued Contractors license, Business Liability Insurance and a Surety Bond. They may also need to have a Workman's Compensation Policy for themselves and/or for all their helpers.
Learn More about State License Requirements for Carpet Installers.
"If installed wrong, your new carpet could lose half of its lifespan!"
Finding and hiring a qualified carpet installer or "carpet Layer" as they are commonly referred to...Can be quite challenging. If you hire a bad carpet installer you will surely regret it. The best carpet installers usually charge a little more and are often very busy, but it would be well worth the wait and extra cost!
Carpet Installers on Craigslist
The best carpet installers rarely advertise on Craigslist or anywhere else. So if you are looking there, be very cautious and be sure to check references.
Unfortunately, many installers never become anything more than a poor-quality installer because they either lack any formal training, or don't have the ambition to keep up on the latest installation trends and methods.
They might just prefer to install low-quality products and make enough money to get by. These are not the type of installers you want to hire because you cannot depend on them to do a good job or show up on time or at all.
Carpet Installation Near Me?
I call them Fly-By-Night installers because they usually show up late and prefer to work "under the table" and be paid in cash. If you have a problem with your installation you might not be able to get them to come back to fix the problem.
They are usually easy to spot because they typically have a beat up truck or van, have papers and junk piled up on the dashboard, wear dirty clothes, wreak of stale beer and cigarettes and they usually have a girl that does the driving.
There is another little-known factor that must be considered when looking for a good carpet installer. The important question you need to ask is "What type of experience do they have?" Here is what I mean: Some carpet installers charge more because they are more experienced installing expensive carpet in custom homes or doing commercial jobs.
Some charge less because they are used to installing low-quality carpet in apartments and doing property management work. (rentals or new construction). You need to decide what level of expertise your job requires and then hire an installer according to his level of expertise and pay rate.
Some Carpet Jobs Require More Skill and Training...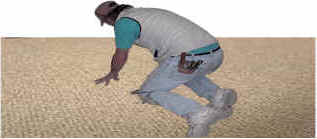 Some carpet installation jobs are more difficult than others and require a more experienced installer. For example, installing an expensive carpet in a custom home requires much more expertise than does installing a low-quality carpet in a low-rent apartment.
Of course everyone needs to have their carpet installed correctly, and hiring an installer with minimum of 5 years of experience is where I would draw the line with a simple installation job.
So, if you buy a more expensive carpet or your carpet job is quite large, difficult or complicated or tricky, than you should find an installer with more years of experience.
I personally believe that it takes at least 10 years before any flooring installer can truly begin to master their trade, and that's only if they have the strong desire and motivation to become the best of the best, like I did.
5 Questions To Ask a Carpet Installer!
1. Are You Licensed, Bonded and Insured?
Many states now require contractor certification. Even if your State does not require a State issued contractor license, always hire a flooring installer that is bonded and insured. Even if your state does not require this, you still need to make sure your installer has business liability insurance and is covered by his own workman's compensation insurance policy. (including his helpers too) Contractor Licensing Requirements For All 50 States
2. What is your State-Issued Registration or License Number?
You can call your State contractors licensing office and verify the status of his license and see if there have been any complaints or claims filed against the installer. Free Carpet Installation Checklist
3. How Long Have You Been Installing Carpet?
Always ask for three local references and require at least 5 years experience. (More for difficult or specialized installation jobs) Finding a Qualified Carpet Installer
4. Do you use a Power Stretcher?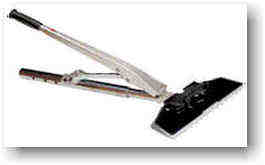 Yes, is the correct answer!
Good installers always use a power stretcher to install carpet properly.
Never let them tell you it is not necessary!
What is a power stretcher? It is a tool that uses leverage to stretch carpet. All carpets installed over padding must be stretched in tight to prevent wrinkles from forming over time. Using a power stretcher is required to keep your new carpet warranty in force.
5. How Much Do You Charge?
Most installers charge by the square foot or square yard. There are extra fees and charges that you will encounter if your job has additional work beyond the definition of a simple install.
Don't automatically go with the lowest priced installer. There are lots of fly-by-night installers who won't be there for you if you ever have a problem or issue with your carpet installation in the future.
Most installers warranty their installation for one year. If your carpet starts developing wrinkles within that timeframe you need to be assured that they will return quickly to fix the problem. Carpet Installation Cost / Carpet Installer Labor Prices
Learn more about Carpet Installation Cost
Carpet Installation Checklist
Make sure you use this checklist before the installer arrives and after the installer is finished. Do a complete walkthrough with the installer and inspect the finished carpet installation job to be sure everything is done to your satisfaction, before the installer leaves!
Before you buy new Carpet…
During The Carpet Buying Process...
Shop for the grade of carpet you require first, and then find several carpet styles and colors that you like.

Take several carpet samples home to consider your best carpet choice.

Get several estimates from locally-owned carpet dealers (click here to see who I recommend near you)

Get bids and estimates in writing and get every detail written down on the contract!

Don't be pressured into buying or agree to buy on the first visit. (in-home or in-store)

Take your time choosing. Take samples home. How much does carpet cost?

Make sure you get accurate carpet measurements.

Take your time choosing the right carpet and padding for your needs and goals.

Keep the original carpet sample until after the carpet has been installed, for comparison purposes.

Keep the original sales receipt and make sure the price of the carpet is shown separate from the price of the pad and installation. You will need this as proof if you ever need to file a warranty claim.

Obtain a complete copy of your New Carpet Warranty and read it.
What To Do Before Your Carpet Installers Arrive:
Has all the furniture, wall pictures and knick-knacks been removed from all and areas to be carpeted.

Make sure any and all valuables are put away safe and secure.

Have all rooms pre-heated to at least 70 degrees, at least 3 hours before and during installation.

Make sure kids and pets are safely out of the way in all areas to be carpeted.

Never allow kids or pets to roam freely during installation.
What To Ask
Carpet Installers When They Arrive:
Did they bring the carpet the right color, style and grade you paid for?

Did they bring the correct padding thickness and density?

Are there any visible carpet defects? (have them roll it out so you can see)

Will they be using a power-stretcher?

Will there be any additional installation fees or charges?

Have they discussed seam locations with you?

Will they be replacing all the transitions with approved materials?

Will they roll up and leave all sizable carpet leftovers for you?
You Must Inspect Your New Carpet (before the installer leaves)
Do all the seams look good? (No seam is invisible)

Are all the seams in the right locations?

Is the carpet securely attached to the tack strips?

Is the carpet neatly tucked in along the walls?

Is the carpet nap all going in the same direction? (in adjoining areas)

Is the carpet stretched in tightly? (did they use a power-stretcher?)

Have all the doors and heat vents been put back in place?

Have all the leftover scraps been picked up?

Get your installation warranty in writing

Get the name and phone number of the installer.
Read More About Carpet Installation Cost
Also See State License Requirements for Carpet Installers